What benefit is B.M.A to you?
B.M.A is a system that deciphers behaviours.
All behaviours are a form of communication that can be influenced by, but not limited to disability, medication, frustration, biological, psychological and environmental factors.
By deciphering the language of the individual they are not only heard but listened too.
B.M.A provides data that can be used by carers and service providers as accurate evidence based reports to support funding requests through the National Disability Insurance Scheme (NDIS) and other funding resources.
Access Detailed Behaviour Analytics
The following is a sample of the behaviour analytics dashboards that are available online to all subscribers through our BMA Mobile Analytics Platform
Compare changes in behaviour counts from month to month and identify area's that require increased focus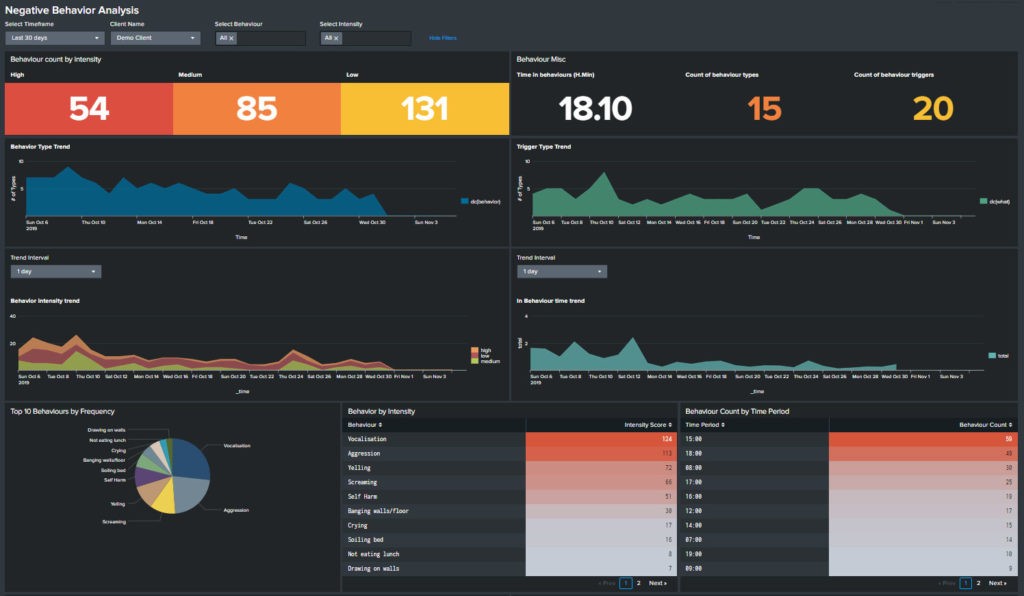 Easily identify triggers by visualising who was present and what was occurring during behaviour events
Visualize strategies and consequences that may be having positive or negative impact on behaviour
Understand how diet and medication can impact behaviour
What does a B.M.A subscription package include?
When you purchase a BMA subscription package you gain access to a powerful behaviour analytics system.
The B.M.A Mobile App
Our mobile application allows you to record detailed behaviour events for your subject in real time.
The mobile app allows you to record:
Specific client behaviours as they occur, including the type of behaviour, the intensity and duration.
Important supporting information around the behaviour such as the location, who was present and what happened just prior to the event.
Information regarding strategies and consequences that were applied as a result of the behaviour and the effect they had on the behaviour.
Restrictive practices that were implemented as a result of the behaviour and the effect it had on the behaviour.
Notes for the client that can be accessed by other carers supporting the same client.
Client medication and dosage information, which can assist in identifying the effects of medication on behaviour
Basic dietary information that can help pinpoint specific foods that impact behaviour.
The mobile app gives you access to view and download detailed client information that can assist new carers when dealing with a client for first time.
Download and view client files that have been uploaded to the BMA website, such as behaviour and risk management plans.
View the client notes captured in the app by all of the clients carers to gain a better understanding of the client prior to engaging them.
Access the BMA website and detailed user manual from within the app as well as a quick start guide and support contacts.
The B.M.A Website
Subscribers will gain member access to the BMA Website where you can login and:
Upload and manage client files that can be downloaded and viewed through the mobile app.
Raise a support ticket to address any issues.
Access support contacts.
The B.M.A Mobile Analytics Platform
All subscribers gain access to dashboards through our online behaviour analytics platform.
The following dashboard analytics are currently available and will continue to grow:
Positive & negative bahaviour analysis
Strategy, consequence and restrictive practice analysis
Medication and dietary impact analysis
Get Started …
Behaviour Management Analysis is a subscription based service, click Subscribe for more information about our pricing options and to apply for a subscription, or visit the Contact page to find out more.